If you have ever considered trying out bondage or kink to add an exciting new dimension to your sex life, chances are you have checked out some of the fascinating gear and objects included in the fetish world but maybe didn't have a clue what goes where or where to begin!
At the core of kinky play must be consent and respect, so it is vital to begin with clear communication about desires, limits and come up with a code word or system for when things might get a bit too much.
Take a look at some of these accessories designed to maximise your enjoyment, and have fun shopping for some treats to fill your desires:
Restraints
Restraining is a core part of bondage, and can be fun and teasing, allowing for one party to provide all of the pleasure and for one to lay back and enjoy the attention without reciprocating.
Being restrained limits your ability to respond to touch, which means squirming with pleasure as your partner has unrestricted access and may see it as a challenge to please you.
There are many ways to restrain, and some people like to start with simple household props such as ties from their dressing gown. If it's time you invested in some proper gear, you might want to look at cuffs, rope and spreaders.
Cuffs
Cuffs can be used to secure someone's hands or feet together, giving them a feeling of vulnerability and helplessness in the hands of their dominant partner. Often fastened with a buckle, Velcro or with a chain, it is best to go for strong but flexible materials such as leather for comfort and to reduce pressure on your fragile wrist bones. You can also get wrist and ankle cuffs that connect together, called a hog tie set.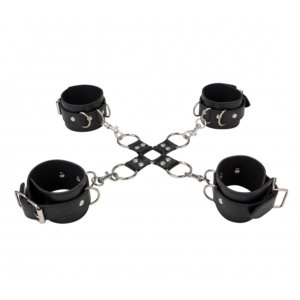 Spreaders
You can attach cuffs to spreader bars, which are designed to keep legs or arms spread apart to hold the submissive person in position. These are especially good if you may be playing somewhere without a bed to attach cuffs to, and most are adjustable and extendable lengths so you can spread it wider to your preference.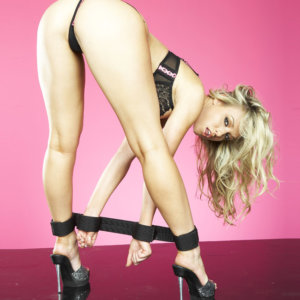 Arm binders
Cuffs still allow some movement, so if you really want to be kept in your place or want to make movement much more difficult for the sub, arm binders might be the next step. Great for keeping arms immobile, they keep the arms pointed straight down the back.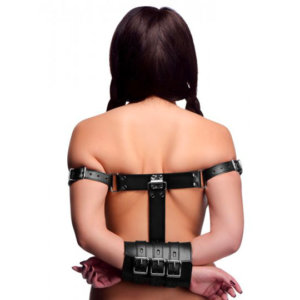 Under bed bondage restraints
Another idea if you don't have bed posts is the under bed restraints, which can be neatly tucked away out of sight until you get the urge to use them. For your nightly thrill, let your body weight keep the restraints in place as you spread with ease.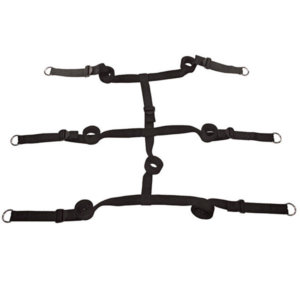 Sensory Play
Blindfolds
Good quality blindfolds allow for comfortable sight removal, which enhances the physical experience, as when sigh is removed the other senses are heightened. It can be highly erotic to have the anticipation of not knowing what is going to happen next, and keep your submissive on the edge of their seat.
You can also get complete sensory deprivation hoods, fitted over the head blocking out light. Some even block out sound too and come with a built in mouth gag.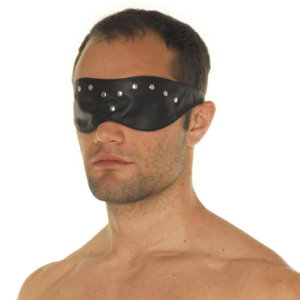 Gags
Using a gag causes someone to lose their power of speech, which is a great way to feel submissive and a popular choice for doms to exert their control. As the submissive cannot talk while the mouth gag is in, it is important to arrange a safe 'signal' as opposed to word, such as finger signs, a bell, or dropping keys.
The most popular gag is the soft rubber ball gag, which allows the wearer to close their jaw when their mouth is tired or they need to swallow, yet there are also harder balls depending on your preferences.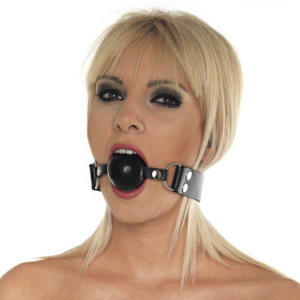 Punishment
Paddles
Paddling refers to the submissive being repeatedly struck by their dominant, for sexual arousal and gratification. Spanking paddles are great for beginners, as you can be as light or forceful as is appropriate, and often is a natural progression from hand spanking.
Whips 
The whip is one an iconic BDSM practice, and much imagery centres around this pain and pleasure inflicting tool. In the hands of a beginner or an experienced user, the whip can cause a range of sensations from light tickling touch to intense agony.
For a noisy thwack, you may wish to use a riding crop, and for a lighter sting you can use things such as bull whips and carpet beaters. There are even electronic zappers available which deliver a fast sting to the flesh, mimicking the traditional cattle prod.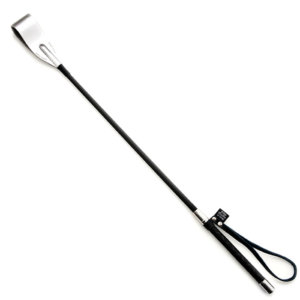 Floggers
Floggers are also a great place to start for beginners, as they are not too extreme but can still have a thuddy impact which is enjoyable. An example of one for beginners impact play are horse hair floggers and suede floggers.
Floggers can inflict punishment from a gentle tease to a lip biting sting, and are designed to produce pleasurable sensations, usually on the shoulders and bottom. Floggers vary in size, but shorter tails are easier to control and require less room to swing.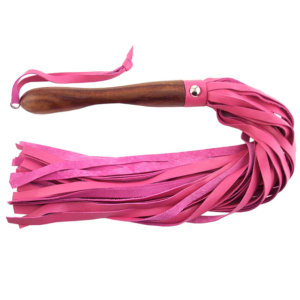 Accessories
Collars
Wearing a collar is a popular and traditionally symbolic way for one partner to prove their submission to their master or mistress.
There are lots of styles, and collars can even be engraved, embellished and decorated to suit each kinky play couples wishes. Some are made from precious materials such as gold, some are sparkly and some are simply leather with studded metal.
Collars have O or D rings at the front which allows the collar to be attached to a leash, should the dominant partner wish to parade the submissive around like a pet for example.
Fantasy wear
There are many fetishes, and LoveWoo accommodates for many of the common role play costumes, such as French maid, adult baby, schoolgirl, secretary, wench and many more.
There are also a range of wigs, for the chance to change your persona (for example experimenting with whether blondes do have more fun)! There are even accessories such as nappies and diapers and nipple tassels, and all aimed at bringing your fantasy to life and improving your bondage play.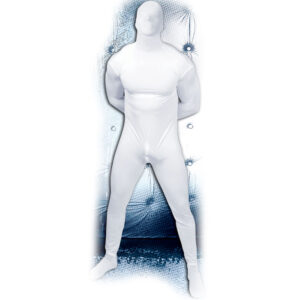 With such a wide range of bondage toys on the market, we hope that has whet your appetite and provided some insight into what you could enjoy for yourself.
Remember, as long as your sex is consensual and safe, there is no need to exaggerate your experience or play against your wishes.
It is important to remember that sex is different for everyone and every experience is unique, so simply explore with what feels good and be open and honest.