A strap on dildo can be worn by both men and women, and used for penetration during anal or vaginal intercourse. Traditionally enjoyed by lesbians, more commonly the term coined 'pegging' is becoming more mainstream, and couples are experimenting with women penetrating their male partner (as we know the male p-spot is located inside his anus, making it a hot spot).
As pegging is becoming more and more spoken about, many curious couples are debating trying it out, and where better to start than with the right gear for the job. Harnesses can be made from a variety of different materials and in different styles, so it is important to find the right style for you.
One big mistake made by people experimenting with pegging is making a poor choice of harness purchase, and the bad or wrong style/material putting a negative impact on the whole experience.
Obviously, when pegging your priority is the pleasure experienced by the recipient, yet for mutual pleasure and comfort, you have the choice of styles to fit your personal preference, and here are a few options:
Double Straps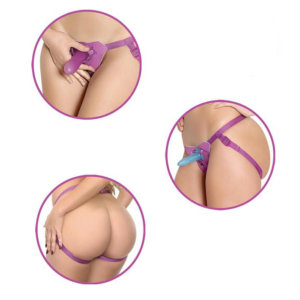 In these style straps, one strap circles the waist or hips, attaching to the front piece, while two other straps attach to the base or sides, circling the thighs and attaching at the back. They may be made from leather, nylon or elastic and each have a different feel to the wearer.
Jock style harnesses usually have double straps and are both comfortable and stable for complete control when pegging. Some people prefer the extra strap support and find it more comfortable than a thong style, plus allowing their anus and genitals to be free for engaging in other sexual acts or use of sex toys.
Using a sturdy harness means you can thrust harder and that the harness will stay in place, preventing sliding and making it difficult to control the dildo.
G-String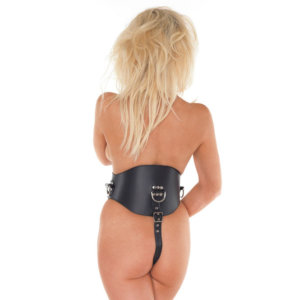 Thong style harnesses one strap circles the waist or hips, attaching to the front dildo holder, and the other strap connects to the base, running between the wearers legs and attaching to the strap at the back.
Many people enjoy the feeling of the harness against their genitals, and claim to get stimulation from this alone. With fewer straps, people also report that they are easier to use and more comfortable.
Some are thicker while others are nothing more than elastic, yet the thicker they are the more control over the strap-on dildo you will have.
Panty Harness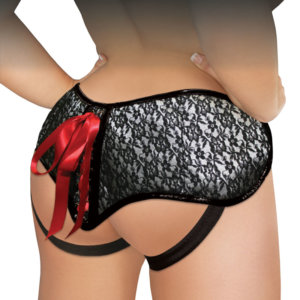 From casual underwear to sexy lingerie styles, panty harnesses are comfortable to wear and offer the ability to be more spontaneous with your sex life, as they can be worn at any time as regular underwear.
You can also buy lingerie harnesses that allow you to attach garters to the harness panty, for an even sexier look and feel. Panty harnesses are comfortable and sturdy with just slightly less thrust control than a double strap.
O-Ring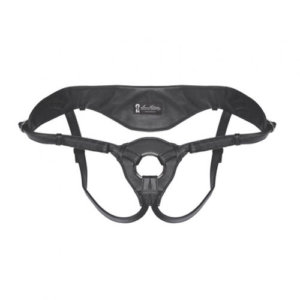 O-ring harnesses are the most popular and versatile to use, as they allow for a larger variety of sizes and types of dildos. They allow you to swap out different dildos so you can switch up your pegging whenever you desire.
The inner ring is usually made with metal, but can sometimes be made with rubber, silicone or elastic to allow for more stretch.
Vac-U-Lock
Vac-U-Lock harnesses have a peg with special ridges that protrude out of the harness and are held in by straps. The peg is then put into the bottom of dildos that are made for the Vac-U-Lock system.
Strapless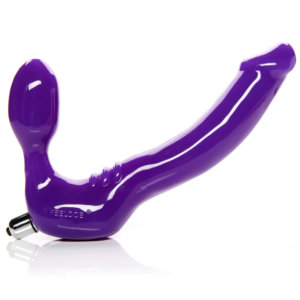 You can now get strapless strap-on's where one end is held internally and the other works as a standard dildo (with some giving added vibrations) and ultimately pleasing both parties with a sleek, barely there look.
The harness should be crafted form high quality material that will not stretch or give, and the dildo rest should sit just above the pubic bone, firm enough to stop the dildo moving around too much during use. Look for harnesses that are adjustable, and be sure to use lots of lubrication during use to prevent any discomfort.