With the help of erotic fiction 50 Shades of Grey breaking into big screen, anal and kinky play in general has gained significant attention and popularity.
Thanks to the hit series, and an increase in innovative sex toys in the digital age, people are realising that anal play is for the masses, not just for gay men, and many men and women are experiencing new orgasm pleasure through nerves in this sensitive area.
Like any sex act, butt fun is not for everybody, and that's fine, however if you are reading this you are probably curious about the whole thing. If so, it might be a wise idea to begin solo and find out what you like at your own pace and then experiment with a partner when you feel comfortable.
With solo toys in mind, LoveWoo provides our top five anal toys and why they really hit the spot:
Butt plugs
A butt plug is a sex toy that not only feels good, it helps to expand the anal muscles by familiarising them to being opened wider than usual. Basically, stretch your anus before you enjoy something even bigger, whilst experiencing pleasurable sensations.
They can also be used for long term stimulation, and are something you can wear as an added accessory on a date, doing chores, or even out shopping, and it will be your thrilling little secret.
Jewel Butt Plug Small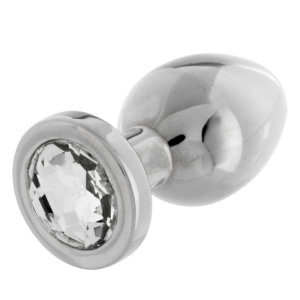 The Jewel Butt Plug not only looks sleek and sparkly, it is small enough for use by beginners, and made of quality high grade stainless steel. It is solid and enables a hygienic, care free session of intimate stimulation. Safe and modern, you can leave it in for pleasure that lasts and lasts.
Anal dildo's
Anal dildo's can often look like regular vaginal ones, but usually come with tapered head for easier insertion and are thinner in shape. You can also get wand style anal dildo's with graduated ball shapes, for fullness that really massages inside.
Using an anal dildo is good practice if you are looking to begin engaging in anal penetration with your partner and want to ease the transition.
Njoy Fun Wand Stainless Steel Dildo
The Njoy wand sparkles in gleaming stainless steel and is ideal for solo use or for experimenting with a partner, and are thin and forgiving enough for the learning anal player. The double ended wand delivers lovely anal stimulation, with p spot targeted massage, and graduated balls, giving an anal experience you will not forget.
Shop here: Njoy Fun Wand Stainless Steel Dildo
Anal beads
Anal beads are inserted into the butt one bead at a time, usually graduating from small to larger, allowing you to work your way up to the biggest bead as your arousal grows.
The strand of small beads are attached together on a long strand, and the bendy, durable material means your body adjusts to each insertion.
Pull out the beads at the brink of an orgasm for an ultra-intense experience.
Nexus Excite Medium Silicone Anal Beads
These small anal beads are made from silky smooth silicone and are perfect for beginners. Pop them in and pull them out at the point of climax for amazing sensations you'll love! The ring at the base makes withdrawal easy to ensure that your playtime is enhanced to the max. Use with silicone lubricant.
Shop here: Nexus Excite Medium Silicone Anal Beads
Anal vibrators
Anal vibrators are perfect for both vaginal play and anal exploration, so if you want to mix things up, as a beginner they are manageable, precise, and come in non-intimidating sizes.
Perfect for those who have already experienced and enjoyed the sensation of vibration elsewhere on the body, and want to experience it anally for vibrating sensations to push them over the edge.
It is best to wait until the vibrator is fully inserted before turning it on, then simply enjoy the penetration and tingling sensations to the sphincter rings.
Ideal for beginners, the jelly anal vibrator is a slim and sensitive toy which offers multi speed soft and hard vibrations. For use by both men and women, the vibrator will hit the spot, indulging in your inner hot zones. Let the flexible, massaging shaft initiate the pleasure centre through your anus.
Shop here: Jelly Anal Vibrator
Prostate massagers
One for the fellas – if you never knew about your prostate, now is a good time to learn and let yourself in on a man's best friend!
Located about 2 inches inside the male anus, it can be massaged from inside the butt, and men say it is intense if you apply pressure there during ejaculation.
Aneros Progasm Jr Prostate Massager
One for the fellas, the progasm does what it says – delivers intense orgasm through massage of your sacred prostate. The junior version massages with the same robust intensity of the classic, but is a smaller and more manageable scale for newbies. It features enhanced responsiveness and focused stimulation as a result of it being more compact, so you can simply enjoy the smooth, glass like feel reaching all the right places.
Shop here: Aneros Progasm Jr Prostate Massager
We know shopping for an anal toy might feel like a minefield, but when you find the product(s) that are perfect for you, we think you'll find it worth the search. Did we miss anything in our Top 5? Let us know your thoughts.