The g spot is certainly an elusive erogenous zone, with some people still debating whether it even exists! However with a huge scope of g spot toys on the market, women worldwide disagree.
The sexological phenomenon that is the g spot is said to be located on the front wall of the vagina, and was first discovered by Ernest Grafenberg in the 1940s. Nowadays there are dozens of modes, speeds and functions all devoted to this sweet spot.
G spot vibrators tend to look similar to regular vibrators, but feature a curved head which is designed to pinpoint stimulation to the target. Vibrations are usually positioned near the top of the toy, which means you can switch them up and put some pressure on your clitoris at any time!
We know that many women struggle to achieve orgasm through intercourse (or at all), with many requiring copious amounts of clitoral stimulation. If you are yet to try gspot stimulation, this could be the big eye opener you were looking for, as many women claim to be able to ejaculate this way.
Everybody is different, so there is no pressure to enjoy or orgasm through this method, yet it could be fun to find it and stimulate it and see what happens! If you're intrigued, or if you already own a g spot vibrator and are always looking for the next best thing, here is our top five:
There is good reason that this is the World's #1 bestselling g-spot vibrator! It offers exhilarating solo pleasure and its design and size means it can unlock the g-spot orgasm potential in every woman.
It is so popular and has received LOTS of positive reviews since it was created, mostly due to the flattened tip design, which is said to cover a large surface area and really hit your spot.
Not only is it waterproof, but it has a near silent vibration as it explores this erogenous zone, making it appealing to those who seek intimate moments without disruption.
The second version has a few upgrades, such as a 100% increase in power and even softer silicone. Now choose from 8 sensational vibration patterns, and find out why this is a woman's best friend.
Shop now: Lelo Gigi Version 2 Deep Rose Vibrator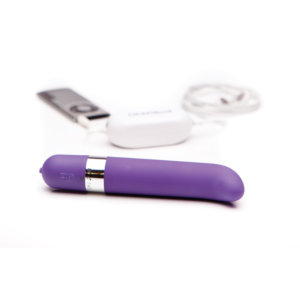 For a wireless music driven vibrator with class and quality, look no further than the Freestyle G! Connect it to an iPod, iPhone or mp3 player, and watch as the vibe pulsates to the music whilst still giving you freedom of movement and motion.
Jam out to your favourite songs and enjoy intense vibration simultaneously, or switch to manual mode whenever you like, and choose from 7 amazing vibration patterns.
Ergonomically designed, it is the perfect accessory for partner play, and due to its powerful rechargeable battery life, it lasts for up to five hours of whisper quiet penetration.
Shop now: Ohmibod FreeStyle G Vibrator Purple
Time for the ultimate in sensation this special Rabbit is your muse, plying you with orgasms for your diary of superlatives. In the typical style of the Satisfyer family, it stimulates your love bead touch-free through pressure waves, providing deeper stimulation which leads to multiple orgasms.
This talent alone has conjured up insatiable smiles on women's faces all over the world. But every cake deserves icing, and in accordance with this philosophy, the Satisfyer Pro G-Spot Rabbit was developed. It expands the unique feeling of clitoral pressure wave stimulation to include an additional G-spot massage.
It could well be worth taking a few days off work and spending them in bed, together with this innovative pleasure companion.
Shop now: Satisfyer Pro GSpot Rabbit
The superb Soraya massager from Lelo is a stunning dual action personal massager designed to deliver multiple stimulations to all the erogenous zones and carry the user on to that body quaking all encompassing climax.
The fabulous Lelo Soraya massager is 8.75-inches in length and made from black silicone and ABS plastic and features a flexible stimulator for teasing those intimate spots, and has a simple three button interface for delivering fabulous vibration.
With the Lelo Soraya massager you have an orgasmic eight unique vibration modes at your disposal along with the device being waterproof and thus can be enjoyed to the full in any watery environment, and comes with a country-specific charger, satin carry pouch, 1-year warranty and Lelo packaging.
Shop now: Lelo Soraya Rose Dual Waterproof Rechargeable Vibrator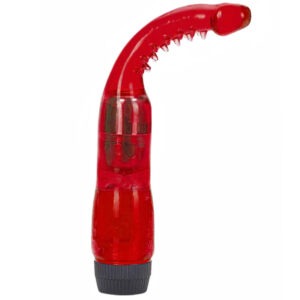 The most different looking g-spot vibrator on our list, the Dimpled Delight is a red jelly vibrator designed to really hit the spot, and stimulate you fully with embedded flexible nubs hitting every angle.
Its spectacular curve caresses your most intimate areas, and the end will tickle your g-spot so sweetly you will go into a frenzy. With multi-speed settings and a soft, supple material, this will be one toy you will definitely want to keep at arm's reach.
Shop now: Dimpled Delight GSpot Vibe