Twenty years since rabbit vibrators rose to fame from the cult series Sex and The City, the popular sex toy is still one of the most best known sex toys in existence.
A rabbit vibrator, in case you didn't know, is an internal vibrator with a bunny ear shaped clitoral stimulator attached to the shaft. It means that you get dual penetration (and often double the climatic experience!)
There are now far more variations and options of rabbit vibrators than you can fathom, think materials, power sources, weak and strong vibrations, thrusting, beads, rotations, butterflies and dolphins, twist controls, AND you can even get ones that heat up – phew!
With such a huge range of the toy out there now, it might seem pretty difficult to pick one out. The truth is, your best friends favourite might not really get you going in the same way, as every vagina is different, and your sexual needs may be different too.
You might like the performance of a toy but find that it just doesn't fit to your body. All that said, the only way to know is to try, and it's certainly fun experimentation. Whether you are an amateur or a pro, we are at hand to give you a list of some of the best bunnies out there:
For the beginner: First Time Jack Rabbit Waterproof Vibrator
Most beginners don't want to start out with the biggest baddest dildo out there, but they still want to experience some intense stimulation, and reach that all important orgasm. As rabbit vibrators stimulate both erogenous zones, it's certainly a good start to your sex toy journey.
The waterproof toy has a 5-6 inch insertable internal massager with rotating beads and gspot precision, as well as external bunny ears to stimulate your clitoris.
There are a multitude of speed variations, so you can go at your own pace, and work your way up and down to satisfy your sexual needs.
+ 4 x AA Battery powered, and can be washed with hot soapy water or toy cleaner.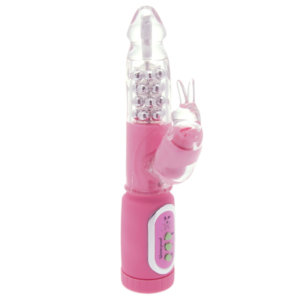 Shop now: https://lovewoo.co.uk/product/first-time-jack-rabbit-waterproof-vibrator/
For the bargain hunter: Toy Joy Knobbly Wobbly Rabbit Vibrator
The Toy Joy Knobbly Wobbly Rabbit Vibrator packs 8 inches of toy into hours of pleasure with a slim and ribbed body to hit all those right spots with high stimulation. Get a 2 in one toy with a clitoral stimulator and penis shaped head; featuring soft touch extra pleasure studs.
Body Safe, Multi-speed, Silent, Twin-motor and Waterproof – POWERFUL. What more could you need?
Shop now: https://lovewoo.co.uk/product/toy-joy-knobbly-wobbly-rabbit-vibrator/
For the luxury lover: Lelo Soraya Dual Vibrator
Sometimes, or maybe most of the time depending on you, you just want to treat yourself to something special. Of course, something being expensive doesn't mean it will be luxurious, but trust us that in this case, the product delivers.
The Lelo Soraya has it all – it is stylish looking, discreet, silky smooth feeling, waterproof, fits the contours of your body, and best of all it has individual motors in each pleasure point that deliver multiple, powerful pleasures.
It has an easy grip, and puts your pleasure in your own hands, with 8 unique vibration modes to choose from. The smooth silicone is waterproof, and travel friendly.
+ Fully rechargeable, and can be washed with hot soapy water or toy cleaner.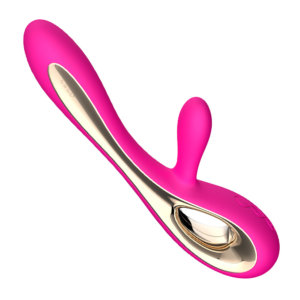 For the experimental: Double Bunny Vibrator
Nowadays, lots of rabbit vibrators also include a third arm, or another set of bunny ears, for you to stimulate your perineum or for anal penetration.
If dual action isn't quite cutting it anymore, and you are looking to squirm in every direction, this kind of toy could well be the next step. The double bunny vibrator is a fabulous 8 inch purple and white triple pleaser.
With a penis shaped head in the centre, your vaginal walls and gspot will be massaged using an erotic chamber of stimulating pleasure pearls that rotate and twist, while the two bunnies simultaneously arouse your clitoris and caress your anus.
+ 4 x AA battery charged, and can be washed with hot soapy water or toy cleaner.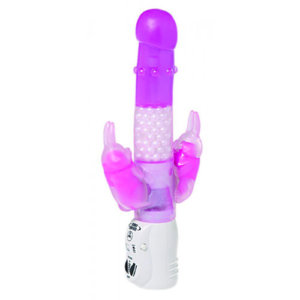 Shop now: https://lovewoo.co.uk/product/double-bunny-vibrator/
For the expert: WOW G Motion Rabbit Vibrator
3 simple letters WOW!
Featuring three synchronized motors in perfect harmony, the WOW! G-Motion is unlike anything you have ever seen!
The WOW! G-Motion is the world's first-ever triple-action vibrator that combines powerful clitoral vibrations with our patented exclusive G-Motion technology. Regular rabbit vibes are great, but they feature rows of spinning beads or pearls that don't do much to stimulate the vaginal walls. In short, they are unsatisfying at best and uncomfortable at worst.
Our new G-Motion rabbit uses a brand new movement that wiggles the tip of the vibe against your g-spot, intensifying the pleasure of each thrust. It is made of our ultra-hygienic and super-smooth Elite Silicone and ergonomically conforms to your body's contours. The tapered, smooth tip of the vibe makes insertion a breeze, and the back and forth movement is designed to rock your world!
No more searching for your g-spot the G-Motion rabbit squirms, thrusts, and vibrates to hit the right spot every time!
The WOW! G-Motion also provides clit stimulation! A super cute and powerful rabbit is nestled against the base of the shaft. Choose a speed that is right for you and let the bunny whisk you away. With three independently controlled motor, you're in complete control of the fun!
Combine back and forth movement of the G-Motion stimulator with the powerful internal vibrations at the smooth tip for toe-curling g-spot orgasms!
Shop now: https://lovewoo.co.uk/product/wow-g-motion-rabbit-vibrator/
Do you have a favourite rabbit vibrator not on this list? Let us know your thoughts!