Solo toys have been popular for some time, but more recently there has been a huge demand for toys that couples can use together. As we continue to overcome the sometimes shameful stigma of using sex toys, more and more couples want to experiment together.
Whether you are looking to add some variety to your bedroom antics or are struggling to achieve orgasm during sex, there is a whole growing market for sex toys for couples, which aim to give both partners a sexual boost and for satisfying shared pleasure.
Anything below can be used in an intense way, or as a gentle introduction to spice things up, so please read on to find out the top 5 sex toys for couples: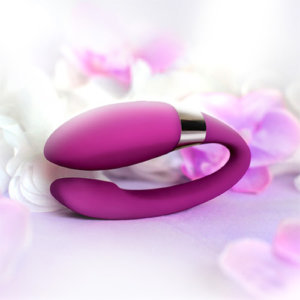 The Lelo NOA has dual ends and sits both in the vagina and against the clitoris, with a range of speeds and patterns working their magic on both partners' erogenous zones. Slim line and hands free, it enhances sex without getting in the way, freeing up your hands to explore other avenues. The revolutionary and very popular toy can also be enjoyed via remote control.
For him: He enjoys a tighter feeling and deep vibrations in his shaft.
For her: Pressure on the G-spot, external clitoris stimulation.
PERFECT FIT COCK ARMOUR BUZZ BLACK VIBRATING COCK RING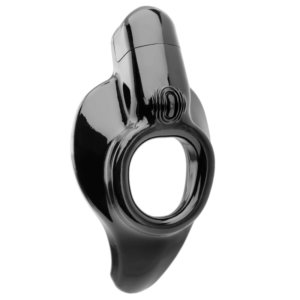 This vibrating cock ring slides over his penis comfortably and stimulates both partners, while leaving you free to use your hands elsewhere. It is compact so it is the ideal toy to travel away with you on your weekends away and to assist in your private moments. They are good for couples who want a more intense sexual experience, and for women who need clitoral attention during sex.
For him: His penis vibrates whilst he is inside his partner. The cock ring gently restricts blood flow to his penis making his penis bigger and harder.
For her: The vibrations can rub up against her clitoris if positioned properly.
JOPEN KEY PYXIS WATERPROOF VIBRATING SILICONE FINGER MASSAGER
The finger vibrator is a small yet powerful addition to your sex life, and not as threatening as a phallic vibrator, it won't get in the way during sex but will provide both partners with enhanced pleasure. It doesn't just have to be used on her clitoris, and can provide a lot of heightened stimulation if you both experiment with new areas.
For him: The female can use this toy when she is playing with her partner's penis or anus. He can experience stimulation in those areas, and can roll the vibrator up and down his shaft while performing oral sex.
For her: Either she or he can use the finger vibrator on her clitoral area during sex. He will feel a bigger part in giving her an orgasm if clitoral stimulation is the main thing that gets her off.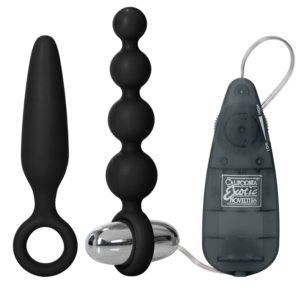 If you have discussed trying anal play during your pillow talk and need something to help you take the next step, or are already keen anal play enthusiasts, the booty call vibro anal kit provides pleasure for all.
The kit is all you need for some anal bliss, and are best when used with water based lubrication. Made from premium silicone and with slender, tapered tips, the toys are easily insertable for users of all levels.
For both: Take turns using and experimenting with the toys and controls, either as a way to simply experience intimate anal pleasure spots or as a way to practice and expand before trying anal sex.
The sleeves adds length to the man's penis, and comes ribbed and veined and able to stretch over your testicles. A little bit of lube and this sleeve comfortably allows you to spice things up in the bedroom.
The sheath slightly cuts down his sensation, meaning he has better control over his stamina and ejaculation, which can be a godsend for anyone suffering with premature ejaculation.
For both: Using a penis extension sleeve can add confidence to a man who might be lacking in size or girth, and greatly improve the feeling of fullness for the receiving partner.
Next time you suggest going for a fancy meal, think about whether that money could go towards a shared toy, and whether you could have a date night of your own in the bedroom. If you are just starting out with experimenting it can be best to start out small and build up with time.
With an open mind and supportive partnership, there is no reason why a couple cannot introducing new sex toys into their bedroom routine and feeding their curiosity. Do you and your partner have any other couples sex toys you recommend on top of our list?